OvenStudio LLHLS
is a powerful Low Latency Streaming Server for the Cloud, leveraging
OvenMediaEngine
,
OvenPlayer
, and
OvenLiveKit
's features. It seamlessly ingests media sources using various protocols such as WebRTC, WHIP, SRT, RTMP, and more enabling exceptional low-latency streaming with the LLHLS protocol.
With a focus on usability, it offers High Availability and Adaptive Bitrate Streaming, enhancing the overall streaming experience. The user-friendly Web Console (GUI) provides efficient management and monitoring of streaming workflows and can support smooth operations.
Designed for the Cloud, it simplifies the installation process with automation and integrates seamlessly with hard-to-manage CDNs. In just a few minutes, anyone can set up their own streaming server and start delivering content effortlessly.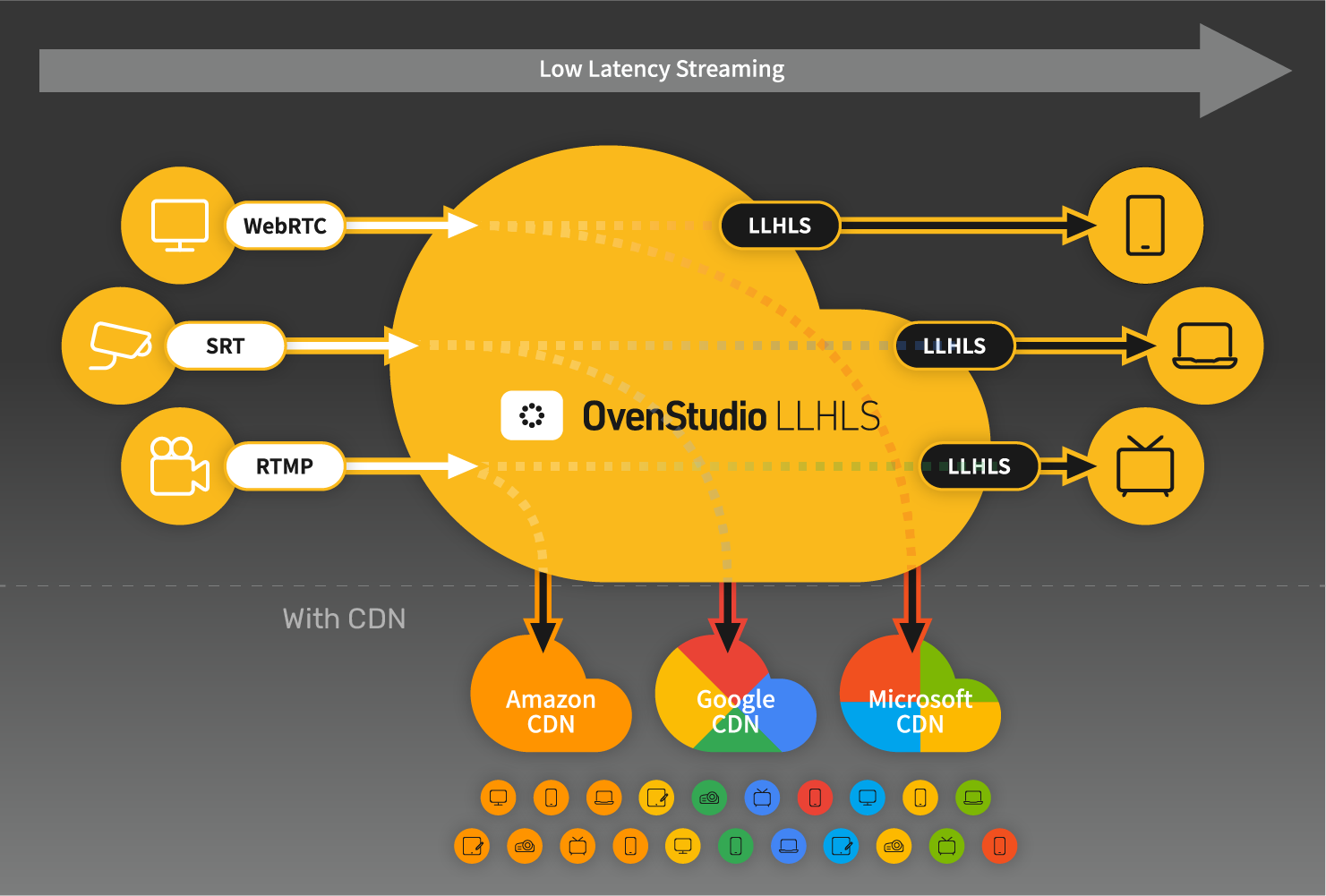 Also, OvenStudio LLHLS complies with the Low Latency HLS specification recommended by Apple, enabling compatibility across a wide range of players and devices. Say farewell to the hassle of additional plugins – your content will stream flawlessly on the most popular web-based platforms.
Experience the future of low-latency streaming with OvenStudio LLHLS!
Low Latency Streaming with LLHLS

: OvenStudio LLHLS supports Low Latency HLS (LLHLS) streaming, delivering low latency video/audio playback to viewers.

User-friendly Web Console

: OvenStudio LLHLS provides a user-friendly web console, offering an intuitive and easy-to-use interface for efficient management and monitoring of streaming workflows.

ABR

: OvenStudio LLHLS supports Adaptive Bitrate Streaming (ABR), dynamically adjusting the video quality based on viewers' network conditions.

Various Ingress Protocols

: OvenStudio LLHLS offers various input protocols, including WebRTC, WHIP, RTMP, and SRT. This allows users to choose their preferred ingress method for live streaming.

Cloud-based Deployment

: OvenStudio LLHLS offers an automated installation process on the Cloud, allowing easy deployment and scalability.

Seamless Integration with CDN

: OvenStudio LLHLS seamlessly integrates with CDN, enabling efficient content distribution.
These are brief descriptions of the key features, and there may be more functionalities and capabilities available on OvenStudio LLHLS.
1.

By clicking the Notification in the top right corner of the OvenStudio LLHLS, you can view user logs related to stream creation/deletion, failure analysis, and more.

2.

Added the ability to set up User Domain and Certificate to use your domain rather than the default domain after integrating with AWS CloudFront.

3.

Improved Web Console access and Streaming to work correctly even using an Elastic IP.

4.

Fixed Uptime in the stream details was missing the Days value.

5.

Updated to OvenMediaEngine v0.15.15. Thank you for keeping up with OvenStudo LLHLS updates! If you have any inquiries or need further assistance, please don't hesitate to contact us. Your ongoing support and feedback are greatly appreciated.
Please feel free to email us at
[email protected]
with any inquiries or questions you may have while using OvenStudio LLHLS. We are here to help you!